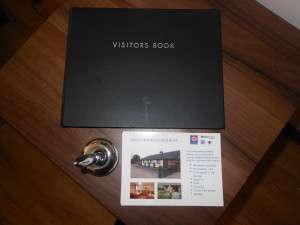 Read more feedback on Trip Advisor: Jayes Holiday Cottages
Or Kingfisher Cottage on Sykes Holiday Cottages
 25th Mar 2022  "Exceeded Expectations"
Comment: We loved our stay, it was lovely to get away and just chill out and forget about busy lives back home. The cottage had everything we needed and Cindy and Paul were great hosts. Not only did they make us feel welcome but they made our dog feel at home too. Would love to come back. And will recommend to friends and family.
16th Mar 2022 "Great cottage."

Comment: We had an amazing holiday and would love to come back again. Watching all the birds from the comfort of the sofa was wonderful. The cottage was spotless and very comfortable, as it is wheelchair friendly there is loads of space to move around. Thank you for making us feel so welcome and the scones were very tasty.
11th Oct 2021
Comment: We had a fantastic stay, everything we required was available which made our stay so pleasant. We will be back as soon as possible, very relaxing a big thank you to Cindy and Paul.
21st Aug 2021 Exceeded Expectations
Comment: Brilliant welcome and wonderful facilities can't recommend highly enough.
"Excellent disabled facilities and dog friendly"
A lot of thought has gone into these cottages. Little touches like touch bedside lamps, plenty of hooks in bathroom at different heights, bed and chair raisers, furniture that can be moved around, along with extremely friendly and helpful owners means this is our second visit and we will be going back. They even looked after our dogs while we went out to places that weren't dog friendly. Lots of places to visit within a 1 hour drive – Ely Cathedral and Stained Glass Museum, Bressingham Steam & Motor Museum, Peter Beales Rose Garden & Nursery, Ickham House & Gardens, Bury St Edmunds, Helmingham Hall Gardens, Owl Sanctuary. Dog friendly cottage although garden not fully enclosed and has a large pond so kept dogs on lead which wasn't a problem.
Cathy
"Brilliant for Disabled People in wheelchairs to stay"
We have been coming here for 9yrs now, l'm severely disabled wheelchair bound. They have bed raisers and settee raisers for us to transfer comfortably. The bathroom shower,wet room is fantastic plenty of room for us to shower.The only downside is that theres no shower,toilet chair for us to sit on.  Theres grab rails but in my situation l need a shower-toilet chair. My husband has to transfer me to both of these amenities. (Owners comment – There is now a shower/commode chair available)
Cindy and Paul make you feel welcome and nothing is to much trouble for them.We love fishing,and theres plenty of places for you to visit in Suffolk. Theres a brilliant Chinese takeaway and chipshop in Botesdale 3miles away.
l really recommend this for disabled people theses two cottages,just what we need for our accommodation.Its in a very quiet village,you can either nip into Diss around 10 miles away or spend a day in Bury st Edmunds 12miles the other way. l love Bury St Edmunds,we drive through there when we are coming in for our holidays.
Lorraine
"Wonderful Break"
of birds at the bird feeders and watch the ducks and moorhen, and to go for walks in the lanes and footpaths nearby. The owners Paul and Cindy were very friendly and helpful. They assembled the hoist we had hired before we arrived. It was very kind of them to do so. We weren't expecting the hoist to be delivered "flat pack" so to speak. It has never happened before when we have hired a hoist! We ate out twice at the Blue Boar in Walsham le Willows and had excellent meals there. Excellent butchers shop in Walsham too and interesting church. Also had lunch twice at the Leaping Hare cafe/restaurant at Wyken Vineyards, where there is a lovely garden to visit and a shop and bookshop. Farmers' market there on Saturday mornings. There are so many beautiful and interesting towns, villages and churches to visit in Suffolk, also gardens and historic houses. The medieval village of Lavenham is well worth a visit and has a wonderful church. Long Melford has the Elizabethan houses Melford Hall and Kentwell Hall and a remarkably long main street. The church is magnificent and has some superb medieval stained glass windows. One of the windows depicts the Duchess of Norfolk, Elizabeth Talbot, who is said to have been John Tenniel's model for his illustration of the Duchess in Alice in Wonderland. Somo of the places we visited included the gorgeous Helmingham Hall gardens, the rotunda house of Ickworth and its gardens, Framlingham castle and church, RSPB Minsmere, Wicken Fen in Cambridgeshire, Knettishall Heath wildlife reserve, Dunwich Heath where a fire was lit to warn of the approach of the Spanish Armada in 1588, Aldeburgh, Southwold, Eye, Kersey, Mildenhall, Dedham, Flatford Mill – scene of John Constable's painting The Haywain; and on our way back home the outstanding gardens of Anglesey Abbey near Cambridge. All in all we had a superb holiday, rich in interest, variety and beauty. Jayes Holiday Cottages were ideally placed for all this and provided a welcome and comfortable home after a day's sightseeing.
Diana